2022 World Cup Qualifiers: Vietnam can beat 4/8 strongest Asian squads
According to InStat's statistic, Vietnam NT can affordability beat out top 8 strongest Asian teams to create the greatest history ever in 2022 World Cup Qualifiers.
Vietnam NT is setting up to enter the very important tournament – 2022 World Cup Qualifiers. Many people have doubted about Park Hang-seo's side who whether or not can create a breakthrough in the derby as the Asian region is managed to have only 4,5 slots.
InStat, on the other hand, indicates that Vietnam can be confident to face and to rule out half of the competitors in the top 8 strongest teams of Asia including Iran, Japan, Korea, Australia, Qatar, Saudi Arabia, UAE, and China.
Vietnam side can knock out many rivals such as China (65%), Saudi Arabia (60%), UAE (50%), Qatar (45%) or Australia (40%).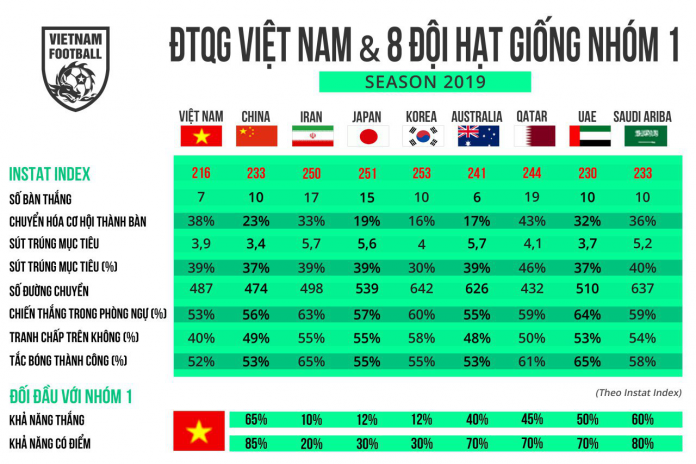 According to 2022 World Cup Qualifiers Drawing Stage, Vietnam NT is pooled together with Iraq, Syria, Uzbekistan, Lebanon, Oman, Kyrgyzstan, and Jordan in the seed group 2, meaning that the only opponent is supposed to put difficulties in Vietnam's way is members of group 1.
InStat is a well-known software for statistics and analysis football data. Based on mathematical formulas and a team with over 300 analysts, InStat provides the specifications of thousands of players for more than 800 football clubs and national teams around the world.
The system costs VFF $ 20,000, its use is providing all data related to the players such as the number of finishes, short passes, long passes, range of movement, length of movement during training and competition.
According to Asian zonal of 2022 World Cup Qualifiers, 40 squads divided into 8 groups (5squads/group). The 8 best squads and 4 2nd teams will progress to the final qualifying round (and also win a ticket to AFC Asian Cup 2023 UEFA held in China).
Seed group of 2022 World Cup Qualifiers Draw Stage:
Group 1: Iran, Japan, South Korea, Australia, Qatar, UAE, Saudi Arabia, China
Group 2:
Iraq, Uzbekistan,
Syria,
Lebanon, Oman, Kyrgyzstan,
Vietnam
, Jordan.
Group 3:
Palestine, India, Bahrain, Thailand, Tajikistan,
North Korea
, Taiwan,
Philippines
.
Group 4: Turkmenistan, Myanmar, Hong Kong, Yemen, Afghanistan, Maldives, Kuwait, Malaysia.
Group 5: Indonesia
,
Singapore
, Nepal, Campuchia,
Bangladesh,
Mongoli
,
Guam
, Ma Cau/Sri Lanka

Read more:
>> OFFICIAL: Vietnam and ASEAN run to co-host World Cup 2034
>> 2014 World Cup's champion raises Vietnam on FIFA table
>> 2022 World Cup Qualifiers Fixture of Vietnam NT
>> Vietnam NT's player got serious injury, might miss World Cup Qualifiers
Thể Thao 247 - Tinnhanhonline.vn
Thứ sáu, 19 Tháng Bảy, 2019
Thứ bảy, 20 Tháng Bảy, 2019
XEM TOÀN BỘ