Vo Quoc Thang denied VFF vice presdent hot seat
In a resent share, Vo Quoc Thang politely declined to take the seat of VFF vice president of Fiance.
On June 25, 2019, the Standing Committee of the Vietnam Football Federation approved Can Van Nghia's decision to resign the post of VFF's Vice President of Finance.
Before Mr. Nghia left VFF, Vietnamese football fans have nominated some alternative names like Mr. Doan Nguyen Duc, Mr. Vo Quoc Thang or Mr. Nguyen Hoai Nam. However, Dong Tam Long An president frankly rejected this offer.
Answering Saostar, Mr. Vo Quoc Thang said: "At this time,my work is very busy so I cannot do it. In the next few years, if everything is stable, I am willing to participate to contribute to Vietnamese football in the next few years".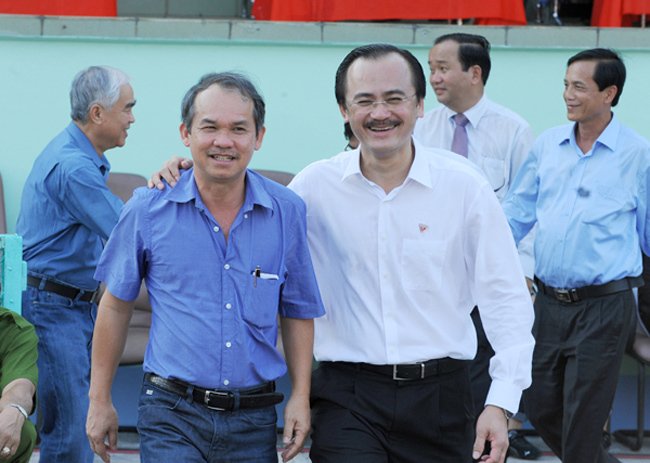 Mr. Vo Quoc Thang is one of the most enthusiastic presidents in Vietnamese football. Mr. Thang has taken coach Calisto from Dong Tam Long An to lead the Vietnam National Team. This bold decision helped Vietnamese football defeat Thailand to win the AFF Cup 2008.
Bau Thang and some other people founded Vietnam Professional Football Joint Stock Company. As the first VPF president, Mr. Vo Quoc Thang and members of the 1st course did not receive salary. With tireless contributions, Bau Thang was awarded the Fair Play Honors 2015.
During the negotiation of the contract with Coach Park Hang-seo VFF will rush to select the replacement of Mr. Can Van Nghia. Some of the brightest names are Sarajevo Club President Nguyen Hoai Nam; JSC Chairman Dong Luc Le Van Thanh (1959); President VPF president Tran Anh Tu (1963) or Vinacacao President Tran Van Lieng (1968).
In addition, Doan Nguyen Duc, The owner of HAGL, is also a potential candidate for the VFF Vice President of Finance.Doan Nguyen Duc has paid all the salary for Coach Park Hang-seo, since VFF signed a contract with the Korean strategist in 2017.
Thể Thao 247 - Tinnhanhonline.vn
Thứ sáu, 19 Tháng Bảy, 2019
Thứ bảy, 20 Tháng Bảy, 2019
XEM TOÀN BỘ