Thailand nurtures Uruguay's style to gain back their ASEAN's no.1 position
Thể Thao 247 - Thailand NT is nurturing the plan to build Uruguay-like style and apply it in King's Cup and later in World Cup 2022.
According to Thai media's opinion, after FAT failed in recruiting European coaches,  Sirisak Yodyardthai will be to first priority for the head coach position of Thailand NT.
Even more, FAT will request the privilege to sign a longer term with Sirisak Yodyardthai despite his lack of certificates.
FAT chooses him because there is not much time left, while he is the only person understand players most and is able to make use of their abilities.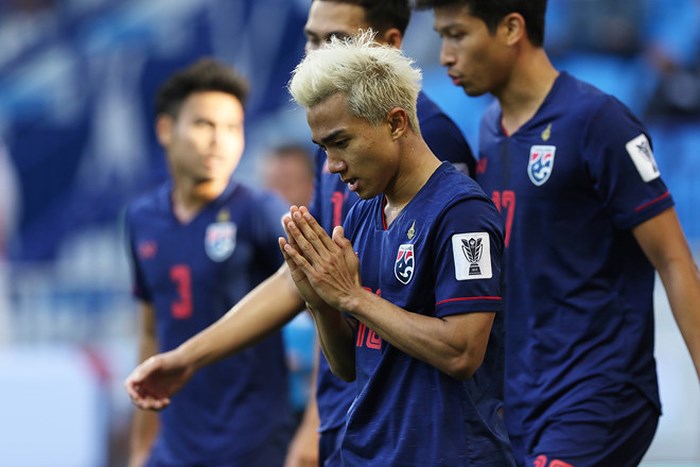 Another reason to recruit this coach is because he is planning to build a new playing style for Thai NT. After coming back from China Cup 2019 last month, coach Yodyardthai reveals he soaked in coach's Oscar Tabarez's ideology after it 0-4 loss to Uruguay in the Finals.
"What Oscar Tabarez shared after that game always made me think on my return flight from China. He said that Thailand has to find a way to play as Uruguay does. However, we cannot compare Thailand to Uruguay, the team won two championships in the world, but things will have to be improved in the near future", Siam Sports quoted Thailand coach.
With outstanding factors playing abroad in the national team, Thailand expects to return to the No. 1 team in ASEAN zone soon.
Uruguay team under coach Oscar Tabarez's reign is an unbeatable team. It is a stable way of playing in front of the penalty area, passing the ball fast and counter-attacking. The combination of South American football blended with the practicality of European football made Uruguay emerge as a candidate for World Cup 2018 championship.
In this World Cup, Uruguay won all 3 group matches without conceding any goals from Egypt, Saudi Arabia and host Russia. Oscar Tabarez's side had eliminated CR7's Portuguese team in the round of 16 teams and finished in the quarterfinals after the defeat  to France.
Facing this situation, Thailand fans are expecting Yodyardthai to create a new and powerful way of playing style like Uruguay to apply at King's Cup 2019, the tournament with the participation of Vietnam, India and Curacao ahead of World Cup Qualifiers 2022.
Thể Thao 247 - Tinnhanhonline.vn
Thứ hai, 22 Tháng Bảy, 2019
Thứ ba, 23 Tháng Bảy, 2019
Thứ tư, 24 Tháng Bảy, 2019
XEM TOÀN BỘ