Vietnam narrowly beat the UAE 1-0 on Thursday to top group G in the World Cup 2022 Asian Qualifiers.
The UAE, which desperately needed a win, played attacking right after kickoff but failed to put much pressure on Vietnam.
After 10 minutes, Vietnam gradually regained control with the excellent performance of midfielders Hung Dung and Tuan Anh, and Van Toan even created several chances.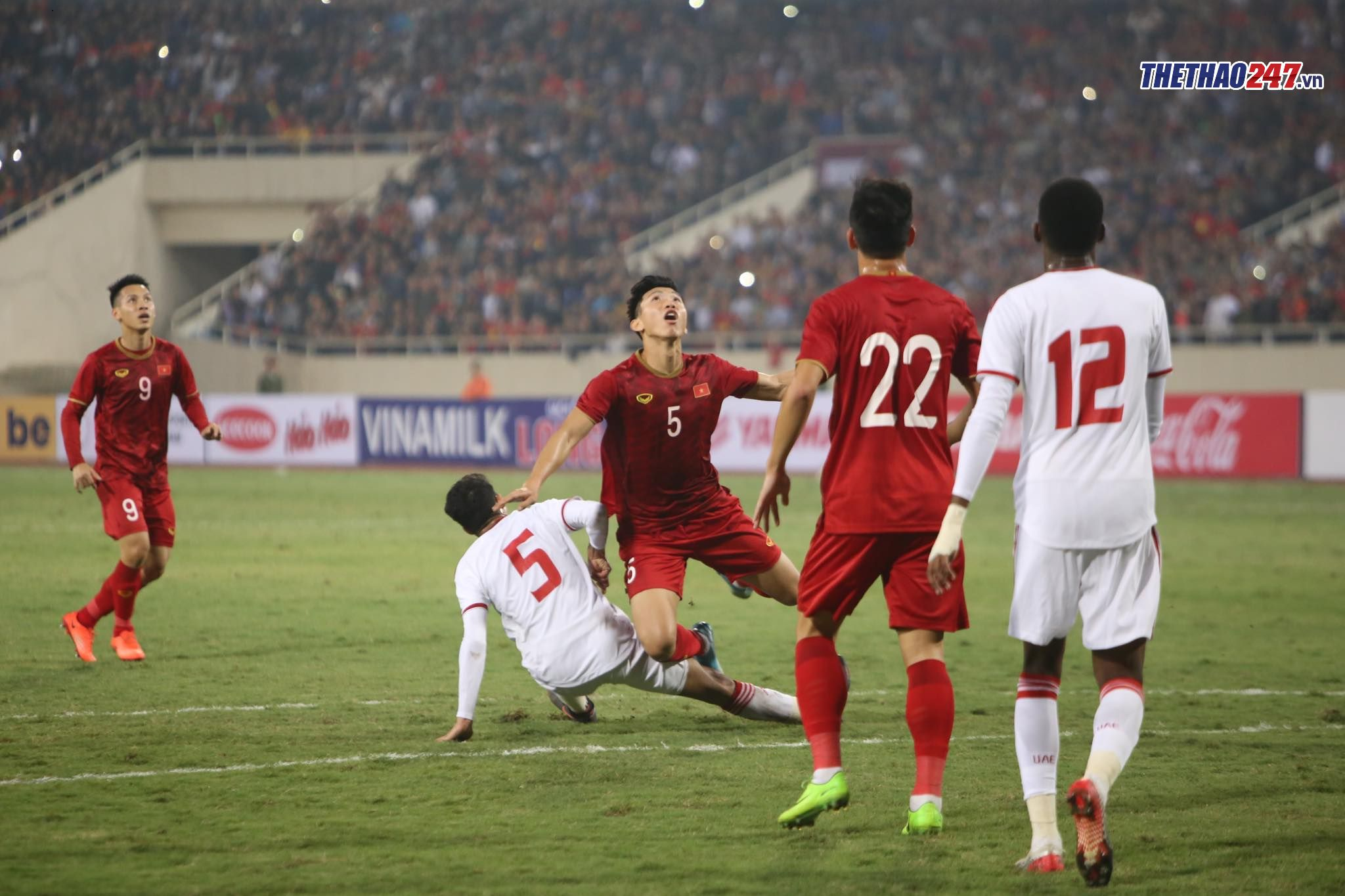 In the 36th minute, Hung Dung made a superb pass to Tien Linh, who was fouled by a UAE defender. The Japanese referee immediately gave the UAE player a red card.
Vietnam completely controlled the game. After receiving the ball from the middle of the pitch, Tien Linh shot from the distance. The UAE goalkeeper jumped up but could not catch the ball. This was also the only goal of the first half.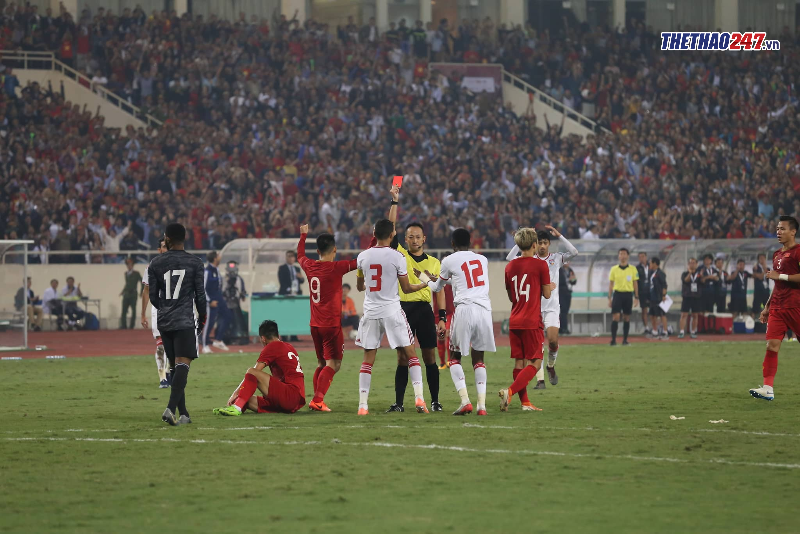 In the 46th minute, Tien Linh almost scored his second goal thanks to Van Hau's pass but he was blocked by a UAE defender.
With only 10 men on the pitch, the UAE conducted several dangerous counter attacks. In the 50th minutes, striker No. 9 speeded up in the right wing and kicked a shot. Fortunately, Van Lam saved the net.
It was also the only dangerous situation that the visitors created. Vietnam fully controlled the game with Tuan Anh a serving as cornerstone in the center.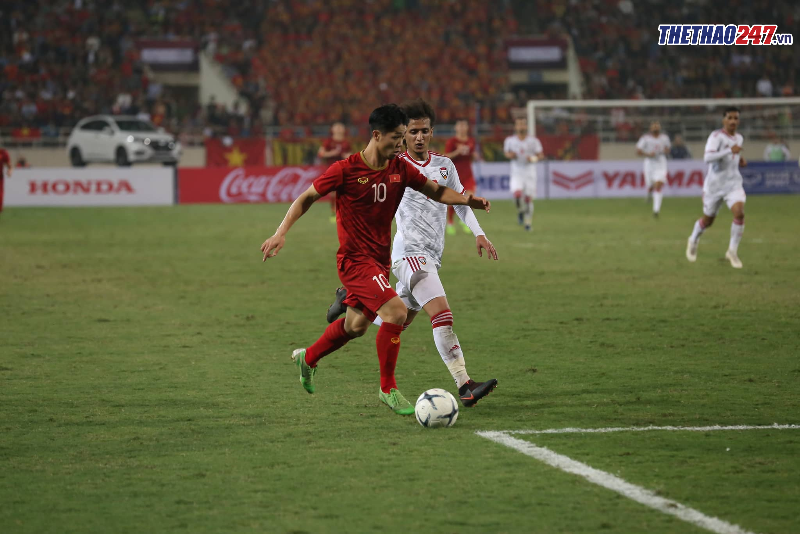 Minutes later, Van Toan was replaced by Cong Phuong who played quite well. With his outstanding dribbling skills,  Phuong was a constant threat to the UAE's defense but his finishes lack accuracy due to the fact that he has been on the bench for too long in Belgium.
In the last minutes of the match, Vietnam played defensively to secure the 1-0 lead.
Vietnam now top group G with 10 points, followed by Thailand, which unexpectedly lost 1-2 to Malaysia.
Highlights:
FULL-TIME! VIETNAM 1-0 UAE
Nguyen Tien Linh's sumptuous strike in the 44th minute was enough for Vietnam in a crucial Group G encounter. The Golden Dragons overtake Thailand on the group table, who fell to Malaysia earlier tonight.A good outing for Park Hang-seo's men in Hanoi. Thailand up next on Tuesday. UAE's next FIFA WCQ encounter will be against Malaysia in March next year!
90+2' It's Cong Phuong again, who has acres of space up top. He decides to cut back onto his right and drive into the box. His shot is straight at Khalid Eisa, however!
90+1' FOUR minutes have been added on here. UAE still have some time to salvage a point at least.
90' Cong Phuong toying with the UAE defence before squaring the ball for Quang Hai who tries to curl in a left-footer from the edge of the box.
JUST WIDE. Remains 1-0!
The Vietnam fans at the My Dinh National Stadium have their smartphone torches on, acknowledging the effort put in by their team tonight.If Golden Dragons manage to see this through, they will climb to the top of the group as Thailand have lost their encounter against 13 minutes ago
84' The three Vietnam centre-backs are keeping the ball among themselves and there seems to be absolutely no urgency from the UAE forwards. Just about five minutes plus injury time left in this crucial Group G encounter!

80' Far too easy for the home side as they are in comfortable possession of the ball with the clock ticking. UAE need more urgency if they are to salvage something from this encounter!
76' Park Hang-seo's men are looking to close this one as soon as possible and Cong Phuong is at the heart of most of their attacks. Still not over for UAE, on the other hand.
74' A lightning counter from Vietnam as Cong Phuong runs the length of the pitch, from one end to another, but fails to find a shot on goal. All of it started from a UAE free-kick, which wasn't delivered in the right area by Abdul Rahman. 

68' With UAE now trying to find an equaliser from somewhere, the Vietnam forwards have acres of space to run into at the other end. The visitors need to wary of the threat the Golden Dragons can pose on the counter.64' Abdul Rahman is dropping much deeper now to try and add some creativity to this UAE side. They need to take many more risks to break this Vietnam defence.Van Marwijks's players have about 25 minutes left to try and salvage something from this encounter.

60' Chance for Tien Linh!An inviting early cross from Van Hau almost reaches the Vietnam forward and he fails to put the ball into the net!

59' Substitution for Vietnam.Van Toan is taken off for Nguyen Cong Phuong.
57' Vietnam are dominating possession now and more of their passes are reaching the two forwards in Van Toan and Tien Linh. Yet to make clear cut chance in this half, however.

52' Chance for UAE!Abdel Rahman finds Bandar Mohammed on the right flanks who manages to drill in a grounded cross. Van Lam somehow manages to parries it off and Vietnam maintain their lead.

50' A searching ball from Duy Manh from deep into his own half is directed towards Van Toan but Khalid Eisa is quick to shut down the danger and collects the ball comfortably!

48' Vietnam's numerical advantage is apparent by the way this half has started. All the outfield players are stationed in the UAE half and Vietnam are pouring players into the box.
HALF-TIME! VIETNAM 1-0 UAE
An exhilarating end to the first half as Vietnam take full advantage of the numerical advantage to put one in just at the stroke of half-time. And it was some strike from Tien Linh which sent them ahead.Big 45 minutes coming up for both the sides.
45+1' TWO minutes added on at the end of the half.
44' GOALLL
Tien Linh opens the scoring for Vietnam
Vietnam 1-0 UAE
36' Trong Hoang has been lively through the right and he manages to dribble past Yusuf Jabir and drive into the box. His cross finds Tien Linh but the forward's shot is just wide. Vietnam looking much more confident!

32' Abdel Rahman finds Abdul Khalil in acres of space outside the box but the forward, instead of holding on to the ball and allowing his wide players to run in, tries to shoot from distance and ends up missing the target!

31' Another misplaced pass from the UAE midfield gifts the possession back to Vietnam. Bert van Merwijk needs to fix a few issues during the half-time break!

31' It won't be wrong to say that Vietnam have grown into the match and are seeing much more of the ball than they did in the first 20 minutes. UAE are struggling to get anywhere close to the Gloden Dragons players who are looking increasingly comfortable on the ball.

29' UAE manage to muster an attack after long but the grounded cross from Bander Mohammed is straight at Ngoc Hai.

26' Quang Hai finds Van Toan with a lofted ball on the right flank and the forward decides to cut the ball back towards the edge of the box. The pass doesn't have much pace though and Hung Dung struggles to reach it as UAE clear the ball.
24' Much like Abdel Rahman, Quang Hai is finding himself in deeper positions as well and is playing some killer passes to beat the UAE defence. Still no clear cut chance for either side, however!
21' Hung Dung's delivery is put into a good area but UAE defenders stand tall and clear the ball.
20' Brilliant bit of footwork from Quang Hai on the left flanks as he meanders past two UAE defenders to run towards the box but is fouled from behind and Vietnam have a free-kick!

19' Quang Hai finds some space in the centre of the field and tries to play a through ball for Van Toan to feed on. UAE manage to intercept and clear their lines, however.

17' Adbdel Rahman and Jasim Yaqoub combine well on the left but Duy Manh is quick to clear the ball. Remains goalless.

15' Van Hau goes on a strong run through Vietnam's left flank and tries to feed Van Toan ahead of him. The pass doesn't find its target, 

14' Vietnam are trying to take out all of UAE's defence with one piercing pass. Van Toan gets on the end of one of such passes but fails to control it as the visitors manage to hold on.
13' Omar AbdelRahman is dropping deep to dictate UAE's attacks but good job so far from the Vietnam defence to keep him from finding his target. 

12' Both UAE and Vietnam are not willing to take any risk early on in the game and are trying to gauge their opponents' weak points. Still no clear cut chance here at Hanoi!
8' UAE are looking to dominate possession but the Golden Dragons are doing well to stop them from creating any clear cut chances.
5' Vietnam are set up to play on the counter as they are breaking forward in numbers as soon as they recover the ball. We're all set for a thriller tonight.
4' Que Ngoc Hai manages to clear the line as Mohammed Barqesh tries to get in through their right flank.
2' UAE have managed to somehow get into the Vietnam box twice in the first couple of minutes but nothing worth noting so far!Both the sides ready to take their time, it seems.
KICK-OFF!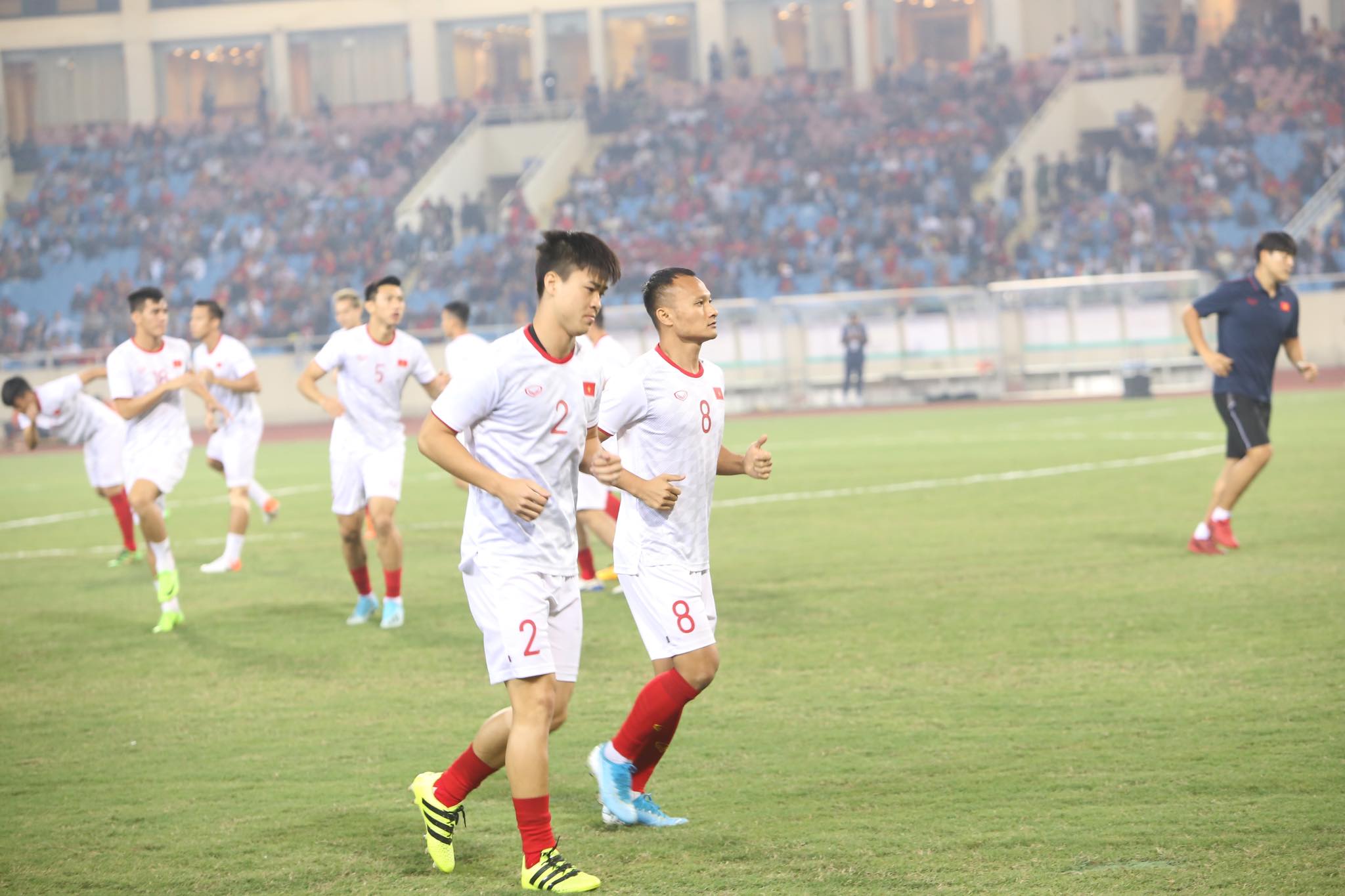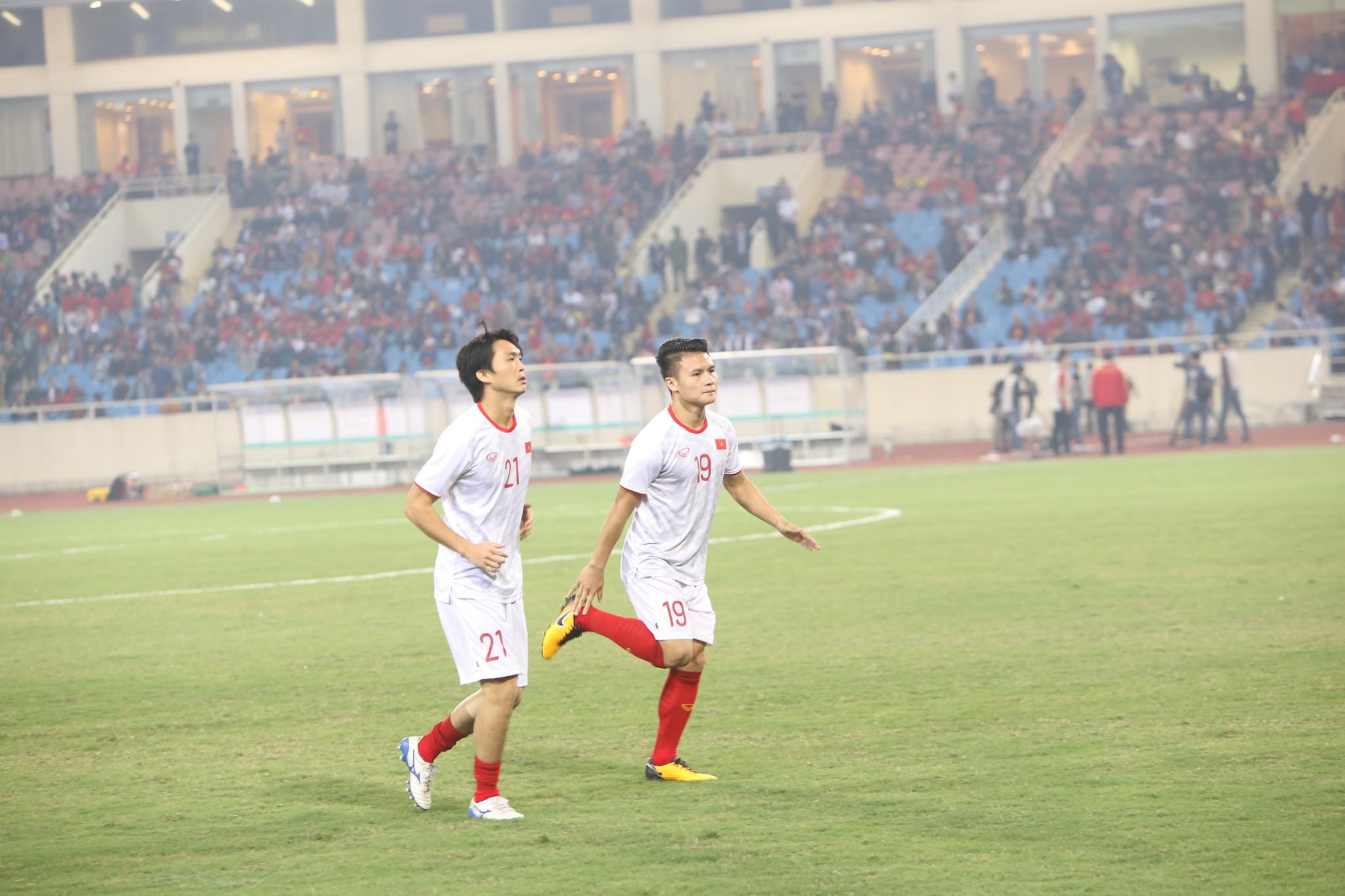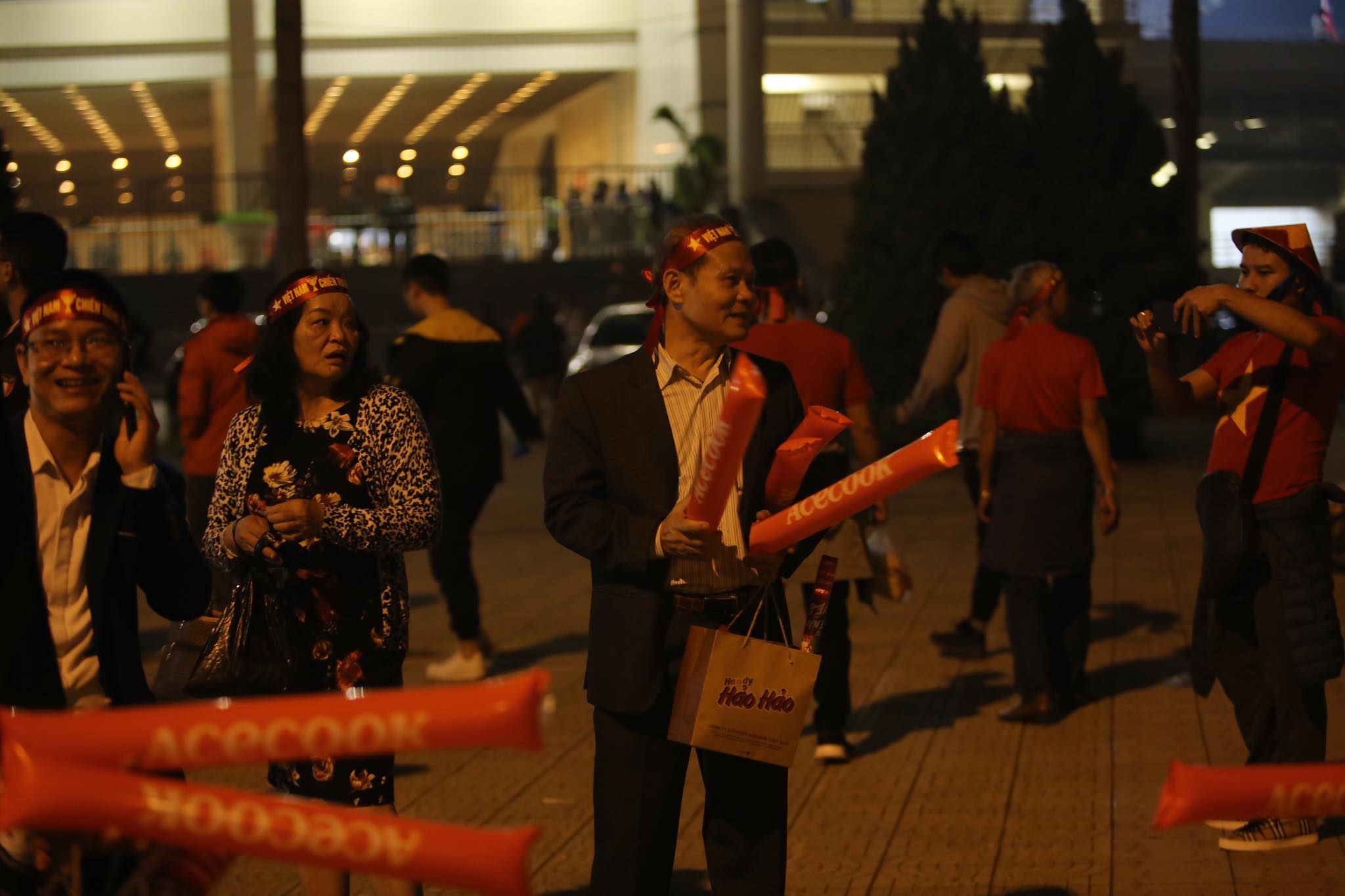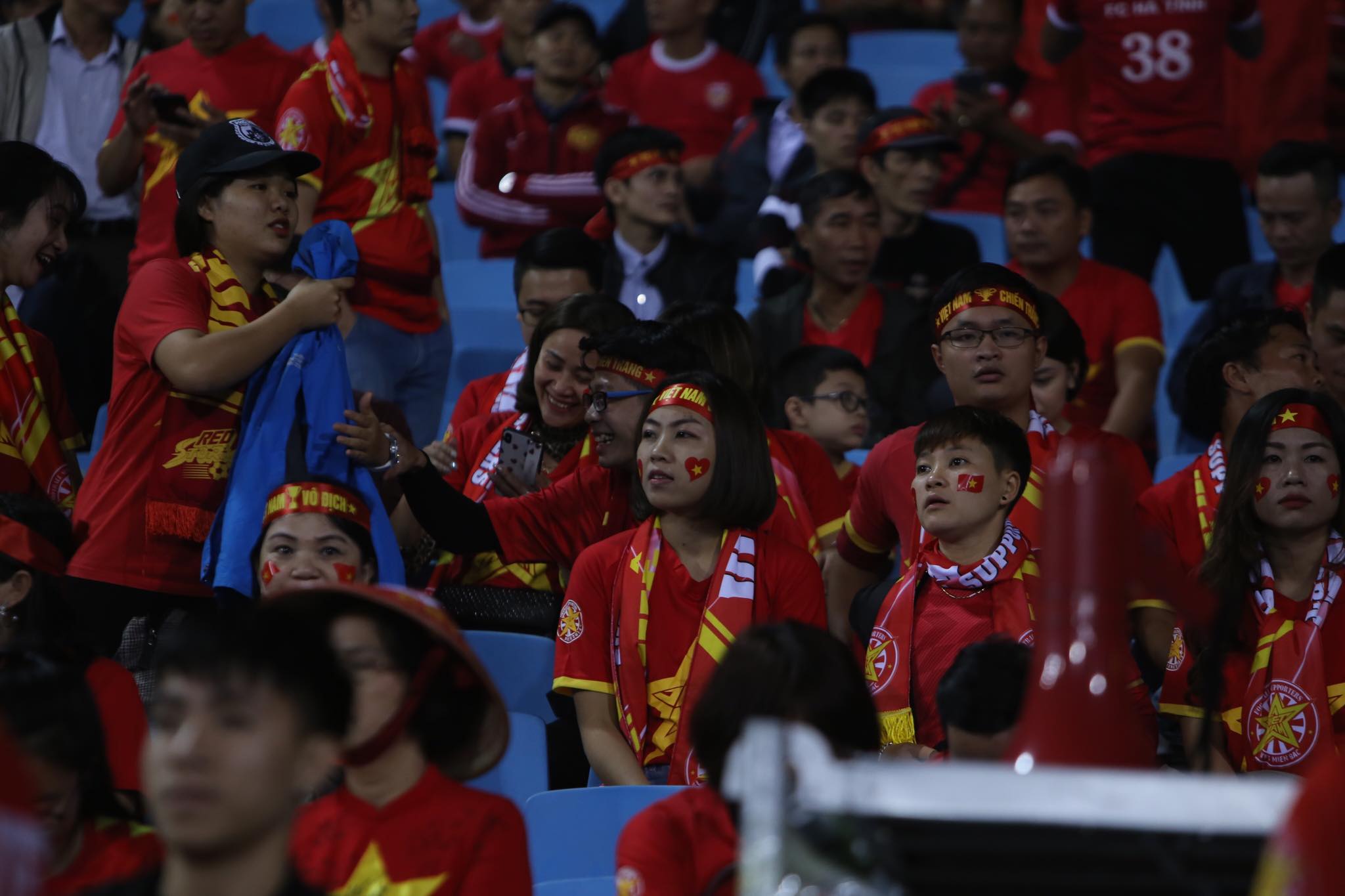 Possible line-up of Vietnam vs UAE
- Vietnam: Van Lam, Ngoc Hai, Tien Dung, Duy Manh, Van Hau, Trong Hoang, Tuan Anh, Hung Dung, Quang Hai, Van Toan, Cong Phuong.
- UAE: Khalid Eisa, Mohamed Al Menhali, Khalifa Al Hammadi, Mohamed Omar Al Attas, Alhusain Saleh, Ahmed Barman, Ali Salmin, Al Hammadi, Omar Abdulrahman, Ahmed Khalil, Ali Saleh.
>>> UAE coach: Vietnam is the strongest rival in Group G
Vietnam vs UAE: to change the pass
Vietnam will host UAE in the last matchday of World Cup 2022 qualifiers. Both sides are determined to earn full three points. 
Vietnam is rated weaker tha UAE who won 4 consecutive games over Vietnam. The last time the Golden Dragon won was 12 years ago at ASIAN Cup 2017. It could be said that UAE is Vietnam's kryptonite.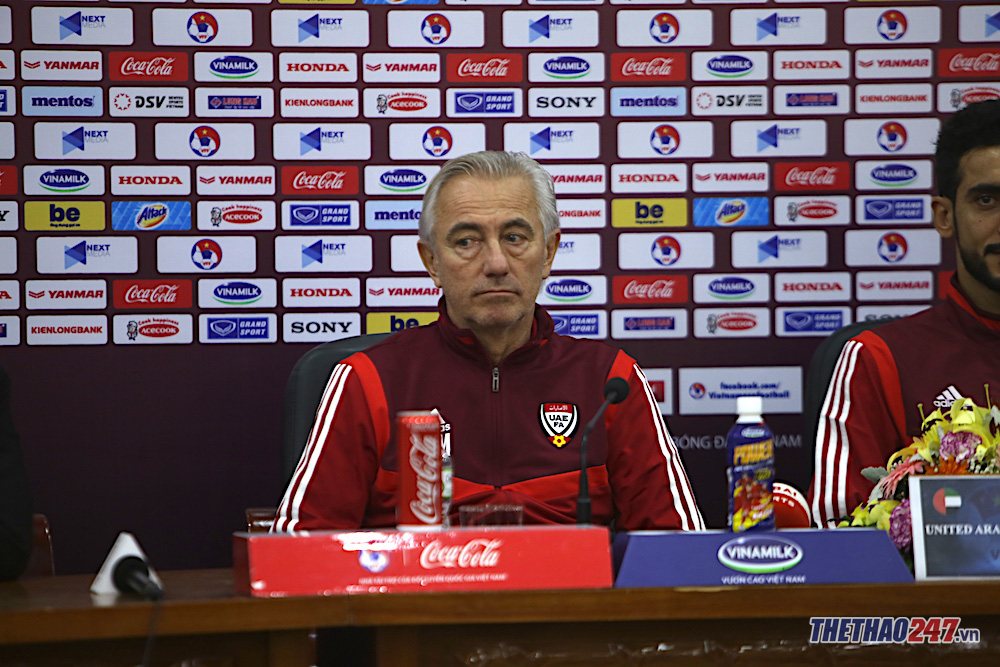 However, Vietnam is long longer a young and less experienced team. Under Park Hang-seo's lead, Vietnam cultivates a lot of success in regional and continental level. 

Even more, Vietnam is ranked higher than UAE in group G.
>>> Park: Team Vietnam won't be complacent about match against UEA

In this match, Park Hang-seo is having the best squad with the support of 40,000 spectators. Vietnamese players are ready to defeat the UAE.
Meanwhile, Bert van Marwijk is having a headach with Alo Mabkhout's absence for suspension. Besides, the Dutch coach is facing much pressure from UAE supporters and the UAE Football Association after UAE's thrashing to Thailand.


Prediction: Vietnam 2-1 UAE